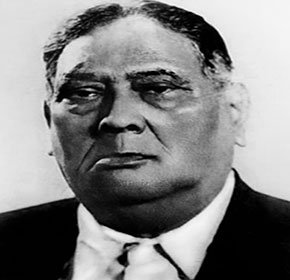 Full name: Abul Kasem Fazlul Huq
Birthdate: October 23, 1873
Birthplace: Bakerganj, Jhalokati, Bangladesh
Died: April 27, 1962
Death Place: Dhaka, Bangladesh
Education: University of Calcutta
Occupation: Politician, Lawyer
Years active: 1937-1962
Spouse (s): Khurshid Begum, Jannatunissa Begum, Mussammat Khadija Begum
Religion: Islam
Zodiac sign: Scorpio
Abul Kasem Fazlul Huq was a famous Bengali legislator, politician, and statesman. He was one of the paramount political leaders in British India and later in Pakistan. Fazlul Huq is best known around the Bangladesh as 'Shre-e Bangla'. He comes to the timeline when officially introduced Lahore Resolution in 1940. He became the member of Bengal Legislative Council in 193 from Dacca and served on the council for 21 years.
Fazlul Huq Early Life:
A K Fazlul Huq was born on October 23, 1873, in Bakerganj, British India (now Jhalokati, Bangladesh). He was born into a middle-class Muslim Family to Muhammad Wazid and Sayedunnessa Khatun. His father Wazid was a reputed lawyer of the Barisal Bar. Huq's paternal grandfather was a scholar of Arabic and Persian. Following the initial homeschooling, he admitted into the Barisal District School and passed FA Examination in 1980.
Later he moved to Calcutta perusing higher education. In 1894, Huq sat for his bachelor's degree exam. He received triple honors in chemistry, mathematics, and physics from the Presidency College. In 1896, he achieved master's degree in mathematics from the University of Calcutta. Then Huq obtained Bachelor in Law from the University Law College in Calcutta in 1897.
Fazlul Huq Career:
A K Fazlul Huq became Prime Minister, being a member of the Bengal Legislative Assembly. During the 1950s, he was Home Minister of Constituent Assembly of Pakistan. He boycotted knighthood provided by the British Government. Huq strived for curving the influence of zamindars and notable for his English oratory.
In 1913, Fazlul Huq became the secretary of the Bengal Provincial Muslim League. He was General Secretary of the Indian National Congress from 1916 to 1918. Huq was the Chief Minister of East Bengal in 1954. He was fluent in Bengali, English and Urdu and working knowledge of Arabic and Persian.
Personal Life:
At first, A K Fazlul Huq married Khurshid Begum with whom he had two daughters. The relationship ended in divorce. Then he married Musammat Jannatunissa Begum who was from Howrah, West Bengal, by this second marriage he had no children. Huq tied a knot with Khadija who was from Meerut, Uttar Pradesh for third times, together they had a son.
He died on April 27, 1962, in Dacca, East Pakistan and buried at the Mausoleum of Three Leaders. The Sher-e-Bangla Cricket Stadium and The Sher-e-Bangla Nagar an area of Dhaka named after him.