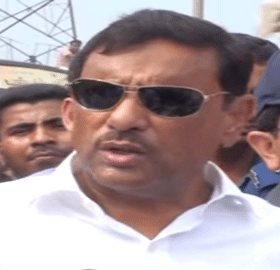 Full Name: Obaidul Quader
Birth Date: January 01, 1952
Birth Place: Companiganj, Noakhali
Education: University of Dhaka
Occupation: Politician
Spouse (s): Isratunnesa
Religion: Islam
Zodiac sign: Capricorn
Obaidul Quader is a Bangladeshi politician and parliament member of Bangladesh. Quader has elected general secretary of the major political party, Bangladesh Awami League in the party's 20th council on October 23, 2016. He is a minister of Road Transport and Bridges ministry. Quader is known as 'Fatakeshto' (the term is taken from West Bengal movie 'Minister') to the common people of Bangladesh for his direct action toward offender who violates the law. He formerly served as State Minister of Youth, Sports, and Cultural Affairs.
Obaidul Quader Early Life:
Obaidul Quader was born on January 01, 1952, at Bara Rajapur village under Companiganj Upazila of Noakhali district to Mosharrof Hussain and Fazilatunessa. His father to Mosharrof Hussain left the government job and joined as high school teacher to serve the society. Quader studied at Basurhat A. H. C. Government High School and completed matriculation with a first division. Then he attended at Noakhali Government College and completed HSC with the place in the merit list. Quader enrolled at the Dhaka University and achieved a graduate degree in political science.
Student Politics:
Obaidul Quader kicks off student politics from college life.  During the Six-Point Movement, he played an active role in 1966. Quader played an effective role during the Mass Upsurge and Eleven-Point Movement in 1969. As the commander of Companigonj Thana Mujib Forces, he took part in the Liberation War of Bangladesh. After 1975 alter the plot, he was imprisoned for two and half years. Although remained in prison, he was elected President of Bangladesh Chhatra League central committee. Quader served the post for two consecutive terms
Political Career:
Obaidul Quader elected National Assembly Member in 1996 parliamentary election as a selected candidate of Bangladesh Awami League from Noakhali-5 constituency. On June 23, 1996, he was sworn in as a Member of Parliament and designated State Minister of Youth, Sports and Cultural Affairs in the same day. Obaidul elected as first Senior Joint General Secretary of Awami League in the Three-Year Council in 2009. He was arrested by the caretaker government of Bangladesh on March 09, 2007 and remained in prison for 17 months and 26 days.
Personal Life:
Obaidul Quader got married with Isratunnesa who is a lawyer.