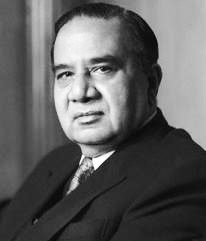 Full name: Huseyn Shaheed Suhrawardy
Birthdate: September 8, 1892
Birthplace: Midnapore, West Bengal
Died: 1963
Death Place: Beirut, Lebanon
Education: Oxford University
Occupation: Politician, Lawyer, Prime Minister
Years active:1947-1957
Spouse (s): Niaz Fatima
Religion: Islam
Zodiac sign: Virgo
Huseyn Shaheed Suhrawardy was a famous Bengali politician and lawyer who served as the last Prime Minister of Bengal during the British Empire. He was also the Prime Minister of Pakistan between 1956 and 1957. Suhrawardy became a leading statesman following the independence of Pakistan in 1947. He was highly educated who studied at Oxford.
Suhrawardy Early Life:
Huseyn Shaheed Suhrawardy was born on September 8, 1892, to a renowned Bengali Muslim family, Midnapore, West Bengal. His father Sir Zahid Suhrawardy was a prominent judge of the Calcutta High Court where his mother Khujastha Akhtar Banu was the daughter of Maulana Ubaidullah Al Ubaidi Suhrawardy. He had an elder brother Shahid Suhrawardy, the co-founder Pakistan PEN Miscellany.
Suhrawardy studied at St. Xavier's College and received BS in mathematics in 1910. Then he enrolled at the University of Calcutta and completed MA in the Arabic Language. He won a scholarship to precede his education abroad. Huseyn received BCL degree in civil law and justice from St. Catherine's Society, Oxford.
Suhrawardy Career:
Following the returning to India in 1921, Suhrawardy joined Swaraj Party of Chittaranjan Das. During the 1930s, he elected the Mayor of Calcutta. Then Suhrawardy assumed the premiership of Bengal as a member of the All-India Muslim League. He mooted around the subcontinent widely along with Sarat Chandra Bose for the United Bengal Proposal to prevent the Partition of Bengal.
Along with A.K. Fazlul Huq and Maulana Bhashani, he formed United Front alliance and the party won the 1954 East Bengal Election over the Muslim League where Muslim League gets only 9 seats of 237 seats. In 1956, the Awami League formed an alliance with the Republican Party to lead the government in Pakistan and Huseyn Shaheed Suhrawardy became the Prime Minister. On October 10, 1957, he was forced to resign by President Iskandar Mirza. Later he was banned public life the military dictator Ayub Khan.
Personal Life:
Huseyn Shaheed Suhrawardy married Begum Niaz Fatima in 1920 who was a daughter of Sir Abdur Rahim, home minister of Bengal Province of the British India. The couple had two children named Ahmed Shahab Suhrawardy and Begum Akhtar Sulaiman. Ahmed Shahab died of pneumonia in 1940 whilst he was a student in London. In 1963, he died of a massive heart attack in Beirut, Lebanon and buried with other Bengali leaders in Shahbag, Dhaka.