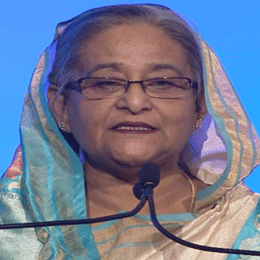 Full Name: Sheikh Hasina
Birth Date: September 28, 1947
Birthplace: Tungipara, Gopalganj
Occupation: Politician
Political party: Awami League
Spouse: Wazed Miah (widow 2009)
Children: Sajeeb Wazed, Saima Wazed
Net Worth: $1 billion (Approx.)
Religion: Islam
Zodiac sign: Libra
Sheikh Hasina is the most powerful woman and the current Prime Minister of Bangladesh. She is known as the Mother of Humanity across the world. She is the eldest daughter of Bangabandhu Sheikh Mujibur Rahman, father of the Bengali Nation.
Sheikh Hasina is the president of the ruling political party, Awami League since 1981 and positioned the party well to fight against any party in Bangladesh. Now, her party Awami League is in power for the third term with her astute political leadership.
Sheikh Hasina Early Life:

Sheikh Hasina was born on September 28, 1947, at Tungipara a remote village in the Gopalganj district, which is also the birthplace of Bangabandhu Sheikh Mujibur Rahman, the founding father and the first president of Bangladesh.
Hasina's mother Begum Fazilatunnesa was widely appreciated as a tender-hearted lady. Sheikh Hasina took primary education in her home district Gopalganj and moved to Dhaka in 1954 and began to live with her family.
In 1956, she was admitted to Nari Shiksha Mandir Girls' School at Tikatuli, Dhaka. Hasina completed SSC from Ajimpur Girls'School in 1965. In 1973, she received a graduate degree in Bangla from the University of Dhaka.
It is a matter of shock, all of her family members were martyred on August 15, 1975, by a military coup except her and Sister Sheikh Rehana. That was the time, Hasina along with sister Rehana was in Germany with her husband Wazed Miah.
Political Career:

Sheikh Hasina began her political journey with student politics; she was elected Vice President of the Students Union of Government Intermediate Girl's College. She was a member of the students League Unit of Dhaka University and Secretary of the Students League Unit of Rokeya Hall.
Sheikh Hasina was elected as the chief of the Student's Union of Eden Girls College. She actively participated in all the mass movements during her student life.
Sheikh Hasina went to the United Kingdom, from where she was on track with her movement against the autocratic rule in 1980. Sheikh Hasina ending six years in exile returned home finally on 17 May 1981 and the day is celebrated as the Homecoming Day of Sheikh Hasina.
Her party took part in the parliamentary election held in 1986 under the autocratic ruler and she won three seats.
In 1990, Hasina made an anti-Ershad movement with her party and forced Ershad to step down from power. Hasina announced the constitutional formula for a peaceful transfer of power through Articles 51 and 56 of the Constitution in 1990.
Following the election of 1991 Sheikh Hasina became Leader of the Opposition in the country's Fifth Parliament, she steered all the political parties in the parliament towards changing the Presidential system into the Parliamentary one.
Sheikh Hasina created awareness among the people of the need for a Non-party Caretaker Government to ensure free and fair polls. Her mass movement was bound to Khaleda Zia's BNP to launch Non-party Caretaker Government in 1996. Her party Bangladesh Awami League won the national election in 1996 for the first time and she became Prime Minister.
In the election of 2001, her party wipes out the competition for the president of that time. Then she positioned her party in such a place with astute leadership power, thereby the party got an outright majority in the two national elections of 2008 and 2014.
Again, Bangladesh Awami League gets a huge win under her leadership in the general election of Bangladesh on December 30, 2018. She becomes the Prime Minister of the country for the fourth times consecutive three-term.
Mother of Humanity:
Bangladeshi Prime Minister Sheikh Hasina is known as the mother of humanity for giving shelter to the Rohingya refugee in her country. Rohingya are coming to Bangladesh with an envision of a safer home, reluctantly leaving up everything that they have, facing the Burmese Army's torture.
The massacre of Rohingya was termed 'Text Book Ethnic Cleansing'. By giving shelter to the tortured Burmese people Sheikh Hasina was warmly acclaimed around the world and creates a field for getting the most prestigious Novel Peach Price.
Personal Life:

Sheikh Hasina was married to a Bangladeshi prominent scientist Mr. M. A. Wazed Miah in 1968. After her marriage, Sheikh Hasina continued her studies and graduated from the University of Dhaka. They have a son Sajeeb Wazed Joy and a daughter Saima Wazed. Her husband Wazed Miah died on May 09, 2009.