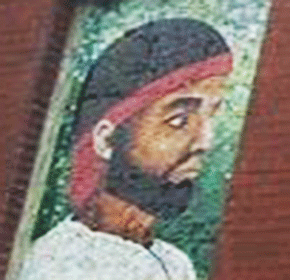 Full name: Syed Mir Nisar Ali Titumir
Birthdate: January 27, 1782
Birthplace: Chandpur, 24 Parganas
Died: November 19, 1831
Education: Hafiz
Occupation: Freedom Fighter
Spouse (s): Not Known
Religion: Islam
Zodiac sign: Aquarius
Titumir was a Bengali revolutionist who is best known around the subcontinent for his Basher-Kella. He uprises a movement against British rule like Surya Sen. Titumir founded Bamboo fort (Basher-Kella) to fight against British Empire and died in the bamboo castle while fighting with the British soldiers. In 2004, BBC's listeners enlisted the legend person as one of the greatest Bengalis.
Titumir Early Life:
Born Syed Mir Nisar Ali Titumir on January 27, 1782, in Chandpur, 24 Parganas, British India, now West Bengal to Syed Mir Hassan Ali and m Abida Ruqayya Khatun. His father Syed Mir Hassan Ali's ancestor came to Bengal from Arabia to preach Islam.
Titumir started to study in a village school, late he moved to a local madrassa. He became a Hafiz of the Quran by the age of 18. Titumir was a scholar of the hadith and Muslim tradition as well as accomplished with Bengali, Arabic and Persian languages.
Titumir Career:
Titumir went to Mecca on a pilgrimage for Hajj, returning from the Hajj he organized the Muslim peasants against the zamindars. He widely uprises against the Hindu zamindar and opposed with discrimination imposed by the Hindu zamindars such as included taxes on mosques and the wearing of beards. That began a conflict with the Hindu zamindars and complaint against the oppression of Zamindars to the East India Company.
Near the town of Barasat, Titumir with his followers builds up a bamboo fort at Narikelbaria. He declared the independence of 24 Parganas, Nadia and Faridpur from British rule. On November 19, 1831, British army with modern weapons attack Titumir's castle but he could withstand armed with nothing instead of bamboo quarterstaff in front of the modern weapons. Titumir was killed with several followers. He is the source of Bengalis inspiration regarding any revolt against oppression.
Legacy:
The largest college of Bangladesh Titumir College in respect number of the student which was previously named as Jinnah College. In 1971, the college is renamed after honor him. A dormitory of Bangladesh University of Engineering and Technology named after him as Titumir Hall.