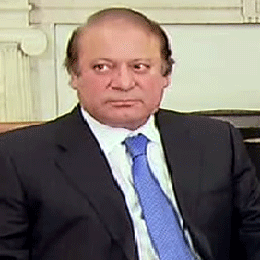 Full name: Mian Muhammad Nawaz Sharif
Birthdate: 25 December 1949
Birthplace: Lahore, Pakistan
Professions: Politics and Business
Political party: PML-N
Owner: Ittefaq Group
Height: 5 feet 7 inches (1.73 m)
Spouse(s): Begum Kalsoom Nawaz
Education: University of Punjab
Religion: Islam
Mian Muhammad Nawaz Sharif, a politician, businessman and current prime minister of Pakistan who wined the general election for the third time which held on May 11, 2013. He is the ever wealthiest person in history who serves Pakistan as a prime minister. After 14 years out of power Sharif dramatically becomes the prime minister again. Nawaz Sharif touches a landmark by taking the authority because it is the first time in Pakistan's history which is the fair exchange of power.
Nawaz Sharif Early life:

Nawaz Sharif was born on 25 December 1949 in Lahore, Punjab, Pakistan to his father Muhammad Sharif, was a renowned businessman. He has come from an upper-middle-class family and his family is owned Pakistan's leading business group 'Ittefaq Group'. In early childhood, he attended Saint Anthony School Lahore. He received a graduate degree from Government College University, Lahore. Then he completed an LLB degree from the University of Punjab.
Nawaz Sharif Career:

Completing his study, Sharif joined his father's steel conglomerate, Ittefaq Group of Industries, as CEO in early 1975. Nawaz politically provoked himself and joined the Pakistan Muslim League in 1976. Sharif elected as a Chief Minister of Punjab by Zia-ul-Haq for the first time on 9th April 1985. He is now deserved as a third-time prime minister of Pakistan after winning his party the election of 11 May 2013. Previously he served Pakistan for two terms from November 1990 to July 1993 and from February 1997 until he was toppled by an ex-army chief, Pervez Musharraf in a bloodless coup in October 1999. The army government forced him to exile in Saudi Arabia and he returned to Pakistan in November 2007.
Nawaz Sharif Personal life:
Nawaz Sharif married Begum Kalsoom Nawaz who was born in Lahore in a respectable Kashmiri family. They have three children Maryam Nawaz, Hassan Nawaz, Hussain Nawaz.