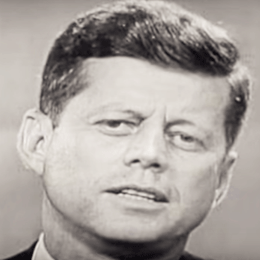 Full name: John Fitzgerald Kennedy
Birth date: January 20, 1961
Birthplace: Brookline, Massachusetts
Education: Harvard University
Occupation: Politician
Political Party: Democratic
Height: 6 feet 1 inches (1.83 m)
Spouse (s): Jacquline Bouiver
Religion: Roman Catholic
John F. Kennedy was the first elected youngest president of United State who assassinated in 1963. He was the commander of Motor Torpedo Boat PT-109 during the Second World War. By the inspiration of his father, he came into politics and became president in 1961 as the first catholic. John F. Kennedy is the first Irish-American and second younger president of United State.
John F. Kennedy Early Life and Education:
John F. Kennedy was born on January 20, 1961, in Brookline, Massachusetts to Joseph Patrick "Joe" Kennedy and Rose Elizabeth Fitzgerald-Kennedy. He was born in a famous Catholic family. John's father Joseph Patrick "Joe" Kennedy was a potato businessman, later he entered into politics and played a role as ambassador in different countries of Europe. His mother, Rose Elizabeth Fitzgerald-Kennedy was a social worker. Kennedy's grandfather came to the United State for potato business from Ireland. He passed early childhood in Brookline, took primary education at the Edward Devotion School in Brookline. In 1937, Kennedy enrolled at Harvard University College.
John F. Kennedy Political Career:
John F. Kennedy entered into politics by left military service after the second world war. As a Democrat,  John F. Kennedy represented Massachusetts's 11th congressional district in the U.S. House of Representatives from 1947 to 1953. Thereafter, Kennedy served in the U.S. Senate from 1953 to 1960. In the U.S. Presidential Election, John F. Kennedy defeated Richard Nixon, the Republican candidate and elected president as the second youngest president in the history of the United State after Theodore Rosevelt. He became U.S. President when was only 43 years old as first Catholic in history and the only president who gets Pulitzer Prize. On November 22, 1963, John F. Kennedy was assassinated in Texas. In this respect, Lee Harvey Oswald was the criminal according to the FBI.
Personal Life:
John F. Kennedy reportedly had numerous love relations with different women. At first, he dated with Danish journalist Inga Arvad. John F. Kennedy's most discussed love relation was love with Marilyn Monroe. Shortly, after his presidential election, Kennedy met with a beautiful lady in a dinner party named Jacqueline Bouvier, married this woman on September 12, 1953.