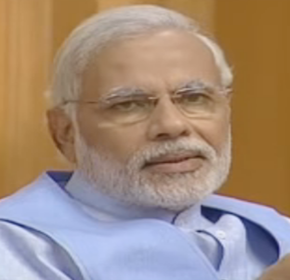 Full name: Narendra Damodardas Modi
Birth date: September 17, 1950
Birth place: Vadnagar, Bombay, India
Education: Gujarat University, Delhi University
Height: 5 feet 6 inches (1.70 m)
Occupation: Prime Minister
Political party: Bharatiya Janata Party
Spouse (s): Jashodaben Chimanlal
Religion: Hinduism
Zodiac sign: Virgo
Narendra Modi is best known for rising from lower family to become Indian Prime Minister. From an ordinary tea monger, he is now Prime Minister of India. Modi is known as a controversial figure in India and beyond the India for his failure to control the 2002 Gujarat racial riots whilst he was Chief Minister of Gujarat State. More than 1,000 Muslims died during the civil unrest; he was alleged for this massacre. Later he was exonerated, elected Prime Minister of India in 2014.
Early Life and Education:
Narendra Damodardas Modi was born in a lower Hindu family at Vadnagar, Bombay, India on September 17, 1950, to the father, Damodardas Mulchand Modi, and mother, Heeraben Modi. Modi' father Damodardas Mulchand Modi was a street merchant as a son Modi used to help his father in the tea stall and later he sold tea with his brother at the Vadnagar railway station. Modi's family lived by tea selling. He completed schooling as a normal student of the city. Modi was especially influenced by the Swami Vivekananda's philosophy at the early life and joined the Akhil Bharatiya Vidyarthi Parishad, the student wing of RSS. He proved debating capacity in his early teens. Modi completed graduation degree from Delhi University in Political Science and Master's from Gujarat University.
The Gujarat Massacre:
In February 2002, a commuter train was attacked, allegedly by Muslims while he served as chief minister of Gujarat. In connection, an attack was carried out on the Muslims. Violence broke out, Modi installed a curfew granting police to shoot. Modi's government was criticized nationally and internationally for the crackdown. Modi was blamed of allowing more than 1,000 Muslims killings but the Indian Supreme Court finished there was no proof Modi was at fault after two contradict investigation.
Elected Prime Minister:
In 2001, Keshubhai Patel's health was broken down and national leadership of party looking for an alternative candidate, they finally selected to Modi. As a result, on October 7, 2001, Modi has taken over as chief minister of Gujarat. Modi has praised for implement monetary policy, other hands he has criticized for his administration's inability to formative work on the human development of the state. Modi was appointed as head of the BJP in 2013 for 2014 Lok Shaba election campaign. Modi positioned the party well for the competition with Indian National Congress. In May 2014, his party won the national election over Indian National Congress taking 282 out of 543, Modi becomes the Prime Minister.