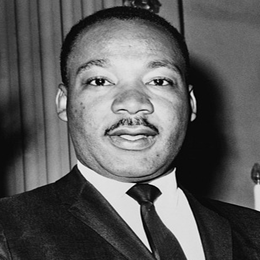 Full name: Martin Luther King Jr.
Birth date: January 15, 1929
Death date: April 4, 1968 (aged 39)
Birthplace: Atlanta, Georgia, U.S.
Education: Boston University
Occupation: Civil Rights Activist
Spouse (s): Coretta Scott King
Religion: Christianity
Zodiac sign: Capricorn
Martin Luther King Jr. was one of the most influential human rights activists of America who led the Civil Rights Movement. He was awarded Novel Peace Price for non-violence civil disobedience to establish citizen and human rights in America.
The non-violent protests of King helped to significant political change and raised awareness of ethnic inequalities in the United States. King was able to capture the hearts of people by his influential speech.
Early Life:
Martin Luther King Jr. was born on January 15, 1929, in Atlanta to Michael King Sr. and Alberta Williams King. His parents were rooted in rural Georgia and his grandfather was a rural minister who moved to Atlanta in 1893.
King's parents got married after an eight-year courtship and they were newlywed at his grandfather's home in Atlanta in 1926. When the king was 5-year-old entered public school in Atlanta then he attended Booker T. Washington High School.
King completed his graduation degree from Morehouse College in 1948. He also achieved Ph.D. Degree from Boston University when was only 25 years old.
Montgomery Bus Boycott:
Montgomery Bus Boycott was the turning point for Martin Luther King who extended it into the civil rights struggle. The main fact is that a fifteen years old school girl, Claudette Colvin declined to give up her bus seat to a white man in Montgomery on On March 2, 1955.
This fact was a violation of local law, so Claudette Colvin was arrested for violation of this law and strict racial segregation. Martin Luther King accelerated a strike and colored people boycotted the use to bus in cities. For several months, the boycott was lasting then Supreme Court declared segregation unconstitutional.
Martin Luther King was an excellent and inspirational speaker who had the capability to boost and move his followers. King captured the unfairness of the time and frequently made references to God through speech. He is best known for his remarkable speech 'I have a Dream'. Gandhi's non-violent protest influenced him very much.
Martin Luther King was assassinated on April 04, 1968. In his honor, America observed Martin Luther King Day every year.
Personal Life:
Martin Luther King Jr. married Coretta Scott in June 1953 who was an aspiring singer and musician. The couple had four children.