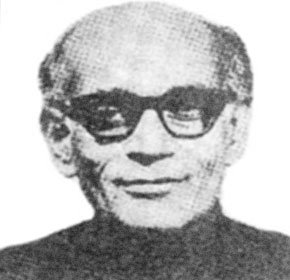 Full name: Muhammad Mansur Ali
Birthdate: January 16, 1919
Birthplace: Kuripara, Kazipur, Sirajganj
Died: November 3, 1975
Death Place: Dhaka Central Jail
Education: Aligarh Muslim University
Occupation: Lawyer, Politician
Spouse (s): Begum Amina
Religion: Islam
Zodiac sign: Capricorn
Muhammad Mansur Ali was a politician and Finance Minister of Provisional Government of Bangladesh. He was one of the organizers of the Liberation War of Bangladesh. Ali was a close confidante of Sheikh Mujibur Rahman. He played a pivotal role with other four national heroes during the liberation war in the absence of Sheikh Mujibur Rahman. He also served as Prime Minister of Bangladesh in 1975.
Mansur Ali Early Life:
Muhammad Mansur Ali was born on January 16, 1919, at Kuripara, Kazipur, Sirajganj. Harof Ali is his father. He was a very talented student. Mansur passed Higher Secondary Certificate examination from Pabna Edward College. Ali studied at Kolkata Islamia College and passed B.A. from the college. Then he enrolled at Aligarh Muslim University and passed Masters in Economics as well as L.L.B. with first class. In 1951, he started law business in Pabna District Court and was also elected president of Lawyers Association Pabna.
Political Career:
Mansur Ali kicked off the career journey as a lawyer. He was involved with Muslim League politics between 1946 and 1950. In 1948, he took training at the Jessore Cantonment and became captain. He was arrested during the Language Movement for supporting the Protestants.
Mansur, as a candidate of United Front Alliance, he was elected a member of the East Pakistan Legislative Assembly in 1954. He played a vital role in the Six Point Movement led by Sheikh Mujibur Rahman. Mansur was elected member of the legislative assembly, in the election 1970.
During the liberation war, he became the finance minister of the Provisional Government. He became the Prime of Bangladesh, after the introduction of a one-party presidential system in 1975.
Assassination:
After the assassination of the father of Bengali Nation Sheikh Mujibur Rahman on August 15, 1975, Ali was immediately placed under house arrest. Later he was arrested with other three senior Awami League leader by the regime of the new president Khondaker Mostaq Ahmed and imprisoned at Dhaka central jail. In the jail, he was killed brutally under controversial circumstance by a group army officer.
Personal Life:
Mansur Ali married Begum Amina, the daughter of a District Judge. They had five sons and a daughter. Eldest son Dr. Mohammad Selim became a political figure and a lawyer. Another son Mohammad Nasim is a powerful political leader of Bangladesh.