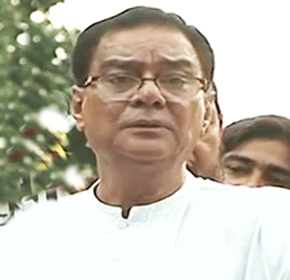 Full name: Syed Ashraful Islam
Birthdate: January 01, 1952
Birthplace: Mymensingh, East Bengal
Death: January 3, 2019
Death Place: Thailand
Education: Mymensingh Zila School
Occupation: Politician
Years active: 1996-present
Spouse (s): Sheila Islam
Religion: Islam
Zodiac sign: Capricorn
Syed Ashraful Islam is a well-known politician of Bangladesh who served as General Secretary of Bangladesh Awami League. He is the Minister of Public Administration and Member of Parliament. Islam also served as Minister of Local Government and Rural Development. He is also a freedom fighter of Bangladesh Liberation War. Now, Sayed is one of the senior leaders of Bangladesh ruling party.
Ashraful Islam Early Life:
Syed Ashraful Islam was born on January 01, 1952, in Mymensingh, East Bengal (now Bangladesh). His father Syed Nazrul Islam was the acting president of Mujibnagar Government during the liberation war of Bangladesh in absence of Sheikh Mujibur Rahman.
He was involved with the student's politics and became the General Secretary of Mymensingh District Chatra League and assistant publicity secretary of the Center Chatra League. He completed HSC from Mymensingh Zila School in 1973. Following the killing of his father in 1975 with other national heroes in the prison, he immigrated to the United Kingdom.
Ashraful Islam Career:
Syed Ashraful Islam kicked off the political journey by joining to the student unit of Bangladesh Awami League. In the United Kingdom, he also involved with politics and formed Bangladesh Youth League. In 1996, he returned to Bangladesh and took part in the 7th notation election and became parliament member from Kishoreganj Sadar constituency.
Again in 2001, he elected Member of Parliament as well. He became the acting General Secretary of Bangladesh Awami League following the arrest of Abdul Jalil during the caretaker government period in 2008.
He is a tested leader to the Bangladesh Awami League, frequently he proved his love towards the party by his activities.
Controversy:
Syed Ashraful Islam is mooted despite political career for criticized high profile political and social figure. He largely criticized Nobel laureate Muhammad Yunus and Secretary of State Hillary Clinton. Islam called Nisha Desai Biswal, 'a minister of two pennies'.
Personal Life:
Syed Ashraful Islam tied a knot with Sheila Islam. He is a happy father of a daughter named Rima Ashraf. Syed Ashraf's wife Sheila Islam has been critically ill for a long time diagnosed with cancer. The fake death news of her spread out on the social network before her death.
On October 23, 2017, Sheila Islam died in the UCLH Hospital in London, she was admitted to the hospital while her health condition went to deteriorate. She was a retired school teacher in London.
Syed Ashraful Islam died of cancer on January 30, 2019, in Thailand at Bumrungrad International Hospital.