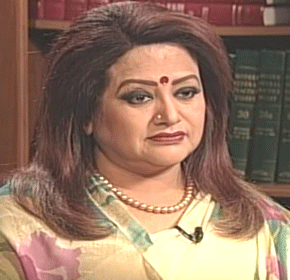 Full name: Farida Akhter Popy
Birth date: April 20, 1948
Birth place: Bagerhat
Education: Jessore Dawood Public School
Occupation: Film Actress
Spouse (s): Iftekhar
Years active: 1968-present
Religion: Islam
Zodiac sign: Taurus
Bobita is a Bangladeshi popular actress and film director. She is a paramount film actress in the country. Bobita was a leading female actress during 1970s and 80s. She acted in more than 250 movies in her career. After liberation war of Bangladesh, Bobita was the dream girl to university students. She won the National Film Award in consecutive three years for her tremendous acting performance.
Bobita Early Life:
Farida Akhter Popy (Bobita) was born on April 20, 1948, in Bagerhat, Bangladesh to Nizamuddin Ataub and B. J. Ara. Bobita's father Nizamuddin was government employee where the mother B. J. Ara was a doctor. She was born in the well-educated family and Bobita grew up in the district due to her father although her paternal home district is Jessore.
Bobita was born with five siblings where her elder sister Shuchanda and younger sister Champa are an actress of the film industry of Bangladesh. Furthermore, the famous celebrity of Bangladesh Omar Sunny is her nephew, Moushumi niece in law, director Zahir Raihan was brother-in-law and Riaz cousin. The family moved to Dhaka from Bagerhat due to sister Shuchanda's acting career.
Her mother was a doctor, so Bobita wanted to be a doctor. She studied at Jessore Dawood Public School. Bobita couldn't continue her study due to engagement with the film industry, plowshares, she made herself educated by own effort without formal education.
Bobita Career:
Being inspired by the elder sister, Bobita comes to the film industry. She made her debut in the movie industry with the film 'Sangsar' where she acted as a child artist directed by Zahir Raihan in 1968. In the movie, she starred as the daughter of pair Razzak-Shuchanda. She acted in a television drama 'Kalom' and got appreciation from the critics. In 1969, she made debut as heroine in the film industry with the movie 'Jaltey Suraj Ka Nichey'. The movie released on August 14 in this year on that day her mother died.
If the actress came to the media industry with the help of the brother in law later, she runs the long way own effort and proved her acting capacity widely in the film industry. Bobita comes to the timeline around the subcontinent when she acted in the movie 'Ashani Sanket' directed by Satyajit Ray in 1973. The movie created a fierce stir in the box office and the actress got positive acclamation from the critics and audience. The movie won the Golden Bear Prize at the Berlin Film Festival.
Following the year, she acted in the movie 'Agnishakkhi' in 1972. Then she appeared in the movie 'Golapi Ekhon Trainey' in 1978 directed by Amjad Hossain. In 1986, she acted in the movie 'Dahan' directed by Sheikh Niamat Ali. Bobita starred in the blockbuster movie 'Dipu Number Two' in 1996 directed by Morshedul Islam.
Bobita launched an own production house named 'Bobita Movies', the production house produce several popular movies including 'Ful Shojja', 'Agomon' and 'Lottery'.
Personal Life:
Bobita married Iftekhar, they couple has a son named Anik who studied in Canada so she frequently visits Canada. Her husband died when their son was only three years old.