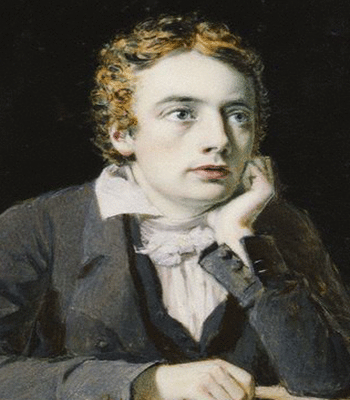 Full name: John Keats
Birth Date: October 31, 1795
Birth Place: Moorgate, England
Died: February 23, 1821, Rome
Height: 1.52 m
Literary Movement: Romantic
Buried: Protestant Cemetery, Rome
Education: Kings College London
John Keats was born on 31 October 1795 to Thomas and Frances Jennings Keats. Keats and his family seemed to have marked his birthday on 29, October; however, baptism records give the birth date as the 31st. From an early period, his poetical bent displayed itself (studied Spenser, Chapman's Homer, and the Renaissance poets). Keats was apprenticed to become a surgeon, but the cal of poesy was too strong to be resisted, and from 1817 onward he lived the life of a man of letters.
He was as fortunate in his friendship as he was luckless in his love. Keats became intimate with Hazlitt and Leigh Hunt, who pointed a sonnet for him in the examiner May 1816, and in whose house he met Shelley.  His sonnet on Chapman's Homer was printed by the examiner in December 1816. In 1817, he published poems by John Keats with the help of Shelley. Financially it was a failure.
While he was staying in London, he came in contact with Fanny Browne. Over the course of time, he fell in love with her. But Fate was conspiring against him.  His malady was getting worse. It is worth mentioning that Keats was the most unfortunate poet of the Romanticists. He lost his father in his early childhood.
His mother died of tuberculosis, his beloved brother Tom also died of tuberculosis, and above all, he himself was affected by that corrosive malady that led him towards inevitable death, on 23 February 1821. When Keats was suffering from a malady and his love was developing, his despair produced a frantic state of his mind. It was reflected in his letters to the young lady. He was the most famous and youngest romantic poet.
'Beauty is truth, truth beauty, – that is all
Ye know on earth, and all ye need to know.