Full name: Masud Rana Shakib Khan
Born: March 28, 1983
Birth Place: Narayanganj, Bangladesh
Height: 6 feet 2 inches
Occupation: Film actor
Years active: 1999–present
Marital status: Single
Spouse (s): Shobnom Bubly, Apu Biswas
Religion: Islam
Zodiac sign: Aries
Shakib Khan is a famous and popular Bangladeshi film actor who made his debut in his film career with Annontho Bhalobasha in 1999 directed by Shohanor Rahman Shohan. He is now the most successful and highest-paid actor in Dhallywood's history. He is well known as King Khan in the showbiz industry of Bangladesh.
Shakib Khan Early Life:
Shakib Khan was born on March 28, 1983, in Narayanganj, Bangladesh to Abdur Rab (father) and Nurjahan (mother). During his schooling days, his family relocates from one city to another city around the country due to Shakib's father's government job. He was interested in martial art and dancing since childhood. He was a brilliant student and dreamt of becoming a doctor or engineer to serve the country's people. He had good results in the Secondary School Certificate (SSC) and Higher Secondary School Certificate (HSC) exams.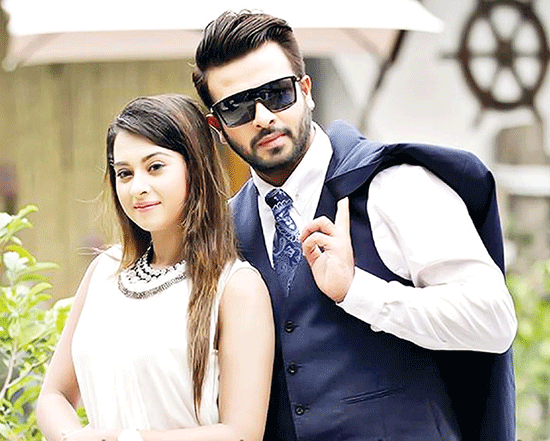 Shakib Khan Career:
One day Shakib went to BFDC (Bangladesh Film Development Corporation), where a photographer requested him for a photoshoot. Abul Khair Bulbul, a film director noticed him during the photoshoot and offered him his movie Shobaito Shukhi Hote Chai. Only five thousand takas was paid for his first movie.
Shakib has been adding a new dimension to the Bangladeshi film industry and he is recognized as the most successful actor after Salman Shah. Shakib Khan and Apu Biswas are the most successful in Dhallywood. For a movie 35-40 lacs, Taka has given to Shakib Khan. He is the president of the Film Artist Association since 2011.
Shakib Khan kicks off the journey in the Kolkata film industry with the Indo-Bangla joint venture movie Shikari. in the movie, he starred with the West Bengal favorite actress Srabanti Chatterjee. Shikari is an action thriller movie directed by Joydip Mukherjee under Jaaz Multimedia.
Personal Life:
Shakib Khan secretly married heartthrob actress Apu Biswas on April 08, 2008, the news was hidden until April 10, 2017. On a live television program on April 10, 2017, Apu Biswas disclose the news, they are husband-wife and have a son named Abraham Khan Joy. Shakib agrees to accept the son but ignores his wife Apu Biswas. He has another son named Shehzad Khan Vir in a relationship with Shobnom Bubly.
So, Shakib Khan has two sons, Abraham Khan Joy by his first wife Apu Biswas, and Shehzad Khan Vir by his second wife Shobnom Bubly. He divorced Shobnom Bubly in 2022.
Awards:
National Film Awards.
Merril Prothom Alo Awards.
Films acted by Shakib khan:
Amar Shopno Tumi (2005), Chachu, Koti Takar Kabin, Dadima, Shuva, Badha, Mayer Morjada (2006), Amar Praner Shami, Pitar Ason (2007), Priya Amar Priya, Tomake bou banabo, Amader Choto Saheb, Doctor Bari, Tumi Shopno Tumi Shadhona, 1 Taker Bow, Mone Prane Acho Tumi, Tumi Jodi Aamar Hote Re (2008), Mone Boro Kosto, Amar Praner Priya, Bhalobashar Lal Golap, Jan Amar Jan, O Sathii Re, Shaheb Name Golam (2009), Valobaslei Ghor Bandha Jay Na, Preme Porechi, Number One Shakib Khan, Nissash Amar Tumi, Chaccu Amar Chaccu, Top Hero, Bolo Na Tumi Amar, Poran Jaye Jolia Re, Hai Prem.