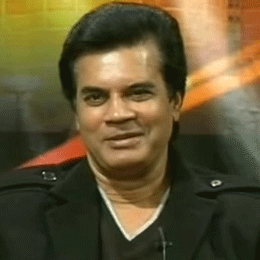 Full name: Ilias Kanchan
Birth Date: December 24, 1956
Birth Place: Karimganj, Kishoreganj
Education: Dhaka University
Occupation: Actor
Years active: 1977-present
Spouse (s): Jahanara Kanchan (died in 1993), Parveen Sultana Diti
Religion: Islam
Zodiac sign: Gemini
Ilias Kanchan is a Bangladeshis famous and well-known actor who is capable of presenting himself in any kinds of movies very easily. He acted already in more than 300 movies throughout his career. He is the hero who launched a social movement in the country named Nirapad Sharak Chai being experienced by a terrific road accident, in this accident his wife Jahanara Kanchan died in 1993. He is one of the popular men in the country for social activities. Kanchan has acted in numerous blockbuster movies in his career.
Ilias Kanchan Early Life and Education:
Ilias Kanchan was born on December 24, 1956, in Karimganj, Kishoreganj to father Abdul and mother Sharufa Khatun. He was very much fond of about the media world since his early life. He was a brilliant student, completed HSC from Kabi Nazrul College in 1975. At first, admitted at Jagannath University but he left the university as got a chance at Dhaka University in Sociology although he did not continue his study here. He wanted to be a doctor in early life, but he made his career in the showbiz arena with successfully.
Ilias Kanchan Career:
Ilias Kanchan made debut in the film industry with the movie Bashundhara in 1977. Then, he acted in various commercially successful movies and added a dimension in the Dhallywood film industry with his acting quality. Beder Meye Joshna is the most popular film, acted by Kanchan. In 1989, he acted in this movie and made history in the Dhallywood film industry.
Social Work:
Ilias Kanchan is involved in various social in Bangladesh for his social work attempt, he well-known around the country and acclaimed by the people. He promotes a social movement for a safe road in the country in banner Nirapad Sharak Chai (we demand safe road). Being shocked, by his wife's death in a road crash, he launched the social movement. Nirapad Sharak Chai is a very popular social movement in the country and many people and organization declared solidarity with this movement.
Personal Life:
Ilias Kanchan is an extremely handsome hero in Bangladesh. He tied a knot with Jahanara Kanchan in 1979. But in 1983, they started formal conjugal life. Jahanara died in a road accident while she was going to enjoy husband's shooting. Kanchan has a son named Mirazul Mayn Joy with his first wife. Later he married Bangladeshi heartthrob actress Parveen Sultana Diti.
Awards:
Sher-e-Bangla Smriti Padak
Chalachitra Darshak Award
National Journalist Welfare Sangstha award
Bangladesh Cultural Movement award
Dhaka Juba Foundation Award