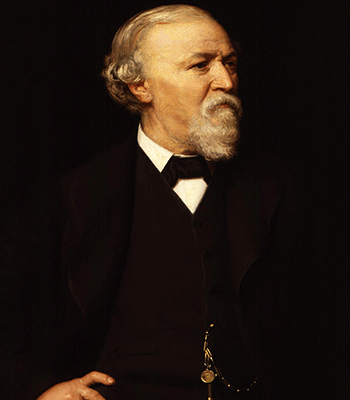 Full name: Robert Browning
Birth Date: May 07, 1812
Birth Place: Camberwell, England
Died: December 12, 1889 (aged 77)
Occupation: Poet
Notable work(s): My Last Duchess
Education: University of London
Buried: Westminster Abbey
Robert Browning was born on May,7,1812, in Camberwell, near London. He had little formal education but learned a great deal in his father's substantial library which had notable works on history, biography, and anecdote. He was deeply influenced by his vast reading and Shelley's ideas. By seventeen, he decided to take up poetry as a career. He was interested in music painting.
In 1838, he sailed for Trieste, en route to Venice, on his first visit to Italy which he learned to love very so much. In 1844, Browning noticed a compliment himself in a poem by Elizabeth Barrett who was a poetess of delicate health. Correspondence and visits followed. In 1946, they were secretly married, for Elizabeth's father would not consent to the marriage.
Elizabeth's health improved a great deal when they left England and settled in Florence, Italy. Here their only child Robert Barrett Browning was born in,1849. Browning found deep emotional satisfaction in his marriage with Elizabeth, as reflected in some of his personal love lyrics, such as Prospice, One Word More, and By the Fireside.
After his wife died in 1861, Browning returned to England to edit her unpublished poems. He now became a highly popular figure in London society. He was honored by Oxford with a fellowship while Cambridge gave him an honorary degree.
In 1835, Browning published Paracelsus which was noticed by Wordsworth, Dickens, Landor, J.S. Mill, and others, including Tennyson and it had some commercial and critical success.
Browning died on December 12, 1889, in Venice, and was buried in Westminster Abbey.