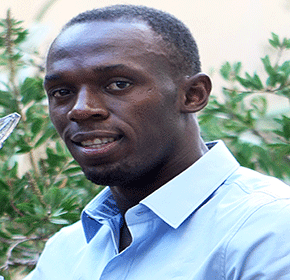 Full name:  Usain St. Leo Bolt
Nickname: Lightning Bolt
Birth date: August 21, 1986
Birth place: Trelawny, Jamaica
Height: 6 feet 5 inches
Weight:94 kg
Occupation: Athlete
Girlfriend: Kasi Bennett
Religion: Christian
Zodiac sign: Leo
Usain Bolt is a very popular athlete in the world present time. He is considered the fastest human alive in the globe. Usain has a spark career journey in the Olympic won the 9 gold medals by joining only three Olympic competitions. He is the leading participant at the three consecutive Olympic in 2008, 2012 and 2016.
Usain Bolt Early Life:
Usain Bolt was born on August 21, 1986, in Trelawny, Jamaica to Wellesley and Jennifer. He comes from a humble background where his parents run a grocery store in the rural area. Usain passed his childhood playing cricket and football with brother. In the early teenage, he proved running capacity and won a School 100 meters distance running competition. Usain studied at William Knibb Memorial High School. His cricket coach advised him to change the track by noticing his speed capacity.
Usain Bolt Career:
Usain Bolt is the fasted man in the world won the three gold medal at the 2008 Olympic in Beijing, China. He is the most successful sprinter in the world and reigning the world by winning three events. Bolt is the first man who wins the 100-meter and 200-meter races in record times. At the 2012 Summer Olympic Games in London, he also won three gold medals at the 2012 London Olympic Summer Games. He made the world record by completing a 100-meter race in 9.58 seconds and 200-meter race in 19.19 seconds. In the Rio Olympic, he again made history by winning three gold medals respectively in 100-meter, 200-meter race, and 4×100 meter relay. Over the course of his Olympic career won the total of 9 gold medals.
Personal Life:
Usain Bolt romantically linked with model Kasi Bennett and planned to marry her with family consent. During Rio Olympic, it is reported he passed a night with a Brazilian makeup artist Jady Duarte. She sends an intimate photo with Bolt to a friend then it becomes viral and the athlete faces various criticism. However, Brazilian press asserted that he is seen with more than one woman at the Night Club before his birthday.