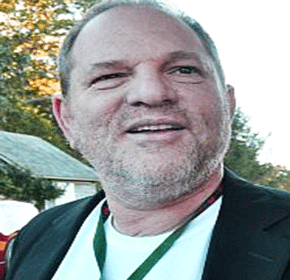 Full Name: Harvey Weinstein
Birth Date: March 19, 1952
Birth Place: New York City, United States
Education: University of Buffalo
Occupation: Film Producer
Spouse (s): Eve Chilton (div.), Georgina Chapman (left)
Religion: Christian
Zodiac Sign: Pisces
Harvey Weinstein is a well-known American film producer and co-founder of Miramax and The Weinstein Company. He comes to the timeline around the Hollywood film industry when released his movie 'Pulp Fiction' in 1994. In October 2017, he found himself in an unfavorable spotlight when The New York Times reports on his alleged history of sexual harassment. Still now, more than 90 actresses raise sexual allegations against the producer.
Harvey Weinstein Early Life:
Harvey Weinstein was born on March 19, 1952, in New York City, United States to a Jewish family. His father Max Weinstein was a diamond cutter and his mother Miriam is a housewife. His ancestors were Polish immigrants. He grew up with his younger brother Bob Weinstein, later together they founded Miramax. He graduated from the University of Buffalo.
Harvey Weinstein Career:
Harvey Weinstein with his brother started a concert promoting business in the 1970s and made a profit. Then they established an Entertainment Company named Miramax in 1979. The company released several critical success movies within a decade such as My Left Foot and Sex, Lies, and Videotape. Harvey becomes the outspoken face of the company.
In 1993, the Walt Disney Company acquired the company and released several high successes movies like Pulp Fiction, Good Will Hunting, Shakespeare in Love, and Chicago. In 2015, the brothers departed and Harvey founded a company by his name 'The Weinstein Company' which produce similar successful results in the movie industry.
He was a top supporter of Democratic presidential candidates Barack Obama and Hillary Clinton in recent election cycles.
Sexual Harassment Allegation:
Harvey Weinstein badly draws huge media attention in October 2017 when more than a dozen women accused him of Weinstein of sexually harassing, assaulting, or raping them. Already more than 90 actresses accused the film mogul Harvey Weinstein of sexual harassment who alternated between offering to cast them in films demanding a naked relationship.
The accusation resulted in his expulsion from the Academy of Motion Picture Arts and Sciences. The Los Angeles Police opened a criminal investigation against him. Uma Thurman breaks her silence on the Harvey Weinstein matter giving thanks to the actresses who underwent his harassment.
Personal Life:
Harvey Weinstein married two times in his personal life. He married his assistant Eve Chilton in 1987. Together the couple had three children named Remy, Emma, and Ruth. In 2004, the couple called it over and got divorced.
He again married fashion designer and actress Georgina Chapman in 2007. He has a daughter named India Pearl by the second marriage. His wife Georgina Chapman left him in 2021 following the allegation of sexual harassment of Harvey by the actresses.