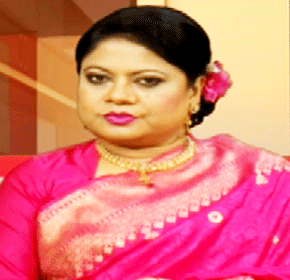 Full name: Kanak Chapa
Birth date: September 11, 1969
Birth place: Dhaka, Bangladesh
Education: Not Known
Occupation: Singer, Writer
Years active: 1991-present
Height: 5 feet 4 inches
Spouse (s): Moinul Islam Khan
Religion: Islam
Zodiac sign: Virgo
Kanak Chapa is a Bangladeshi well-known and popular singer. She is more success in playback singing in the film industry of Bangladesh. Kanak Chapa already has won the millions of listener's mind by her outstanding singing capacity. Her songs always create a different feel to the listeners. The evergreen singer won the several prestigious awards including National Film Award for her excellent singing in the movie.
Kanak Chapa Early Life:
Rumana Islam Kanak Chapa was born on September 11, 1969, Dhaka, Bangladesh. Azizul Huque Morshed is her father. She was so much passionate about music arena from early childhood and took a lesson on music from legend singer of Bangladesh Bashir Ahmad. Her father Azizul Huque Morshed and Husband Moinul Islam Khan helped and inspired much to become a country famous singer.
Kanak Chapa Career:
Kanak Chapa is equal foresighted in playback, modern, folk, Nazrul Geeti and all types of song. She has been working successfully as a playback singer for a long time. Kanak Chapa gives her voice in more than three thousand playback song and released about 35 single music albums.
She is best known around the country for her writing skill alongside singing. She released more than three books in Ekushey Boi Mela subsequently 2010, 2012 and 2016. The talented singer also writes for the leading daily newspaper in Bangladesh.
Books:
-Sthobir Jajabor 2011
-Mukhomukhi -2012
-Megher Danay Chore- 2016
Some Popula Music Album:
-Abar Eshechi Firey
-Arale
-Poddo Pukor
-Poddo Pata
Some Hit Songs:
-Chokher Vitor Swapno Thake
-Kichu Kichu Manusher Jibone
-Bajare Jachai Kore Dekhinito Daam
-Elo Melo Chule Lalater Vaj
-Amar Premer Tajmohol
-Onek Sadhonar Pore Ami
-Ononto Prem Tumi Dao Amake
-Koto Manush Vober Bajare
-Tumi Amar Emoni Ekjon
-Ekdin Tomake Na Dekhle