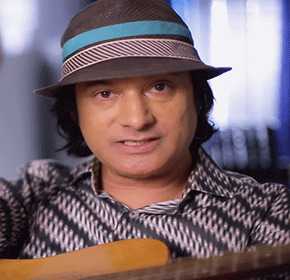 Full name: Shafin Ahmed
Birthdate: February 14
Birth Place: Dhaka, Bangladesh
Education: England
Occupation: Singer
Years active: 1984-present
Height: 5 feet 5 inches
Spouse (s): Rumana Dowla
Religion: Islam
Zodiac sign: Aquarius
Shafin Ahmed is a Bangladeshi well-known singer and music composer who earn fame in his solo music career. He is the son of Nazrul Sangeet singer Firoza Begum. Shafin is also best known in West Bengal for his singing quality. He is a member of the musical group Miles. Now the singer is a familiar and powerful name in the field of band music.
Shafin Ahmed Early Life:
Shafin Ahmed was born on February 14, in Dhaka, Bangladesh. His father Kamal Dasgupta was a music director who died on July 20, 1974, and his mother Firoza Begum also was a famous Nazrul Sangeet singer who died on September 9, 2014.  He had an extra interest in the music arena as he was born into a music-loving family. Sometimes, he used to take a lesson in music from his father. He has an elder brother named Hamin Ahmed.
Shafin Ahmed Career:
Shafin Ahmed kicked off his journey in the music industry at a young age. He was exposed to western music as studied in England with his elder brother. Later they together found the music band named Miles which turned into a leading musical band in Bangladesh. Already the singer gave his voice to various popular songs such as Chand Tara Shurjo, Firiye Dao, Fera Alena, Jala Jala, and Prothom Premer Moto.
He left his own founded music band Miles rising personal differences with the band. Later he established a new band named Rhythm of Life.
Personal Life:
Shafin Ahmed married Rumana Dowla, together the couple has a son- Azraf Rakin Ahmed, and a daughter named Raniah Safa Ahmed. Later the singer married a beautiful lady Nahin.