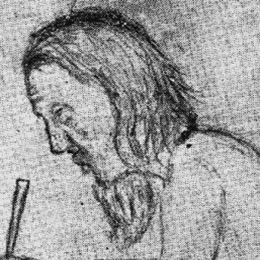 Full name: Fakir Lalon Shah
Nickname: Lalon
Birth date: 1774
Birthplace: Horishpur, Jhenaidah
Education: Self-educated
Occupation: Baul saint
Spouse (s): Bishokha
Religion: Unknown
Zodiac sign: Aries
Died: October 17, 1890
Buried: Cheuriya, Kushtia, Bangladesh
Lalon Shah was famous Baul saint, singer, songwriter, and thinker who possessed a versatile talent. He was a singer, composer, and lyricist of numerous famous songs. Lalon is regarded as one of the pioneers of Baul's song as well as he was a social reformer, humanist, and philosopher.
He was away from religion, caste, and racial discrimination and positioned humanity in the highest position. Lalon was a humanist and wrote songs being encouraged by this perception of secularism. His songs largely influenced the world poet Rabindranath Tagore and Kazi Nazrul Islam.
Lalon Shah Early Life:
Fakir Lalon Shah was born in 1774 at Horishpur, Horinakundo, Jhenaidah. No details are found about the life of Lalon even though he did not say anything about himself through writings but addressed himself as Lalon Fakir in some songs.
It is a matter of debate, where Lalon was born. Some researcher thinks that he was born in Kustia but others believe that was born in Jessore. Once Lalon was going out on a pilgrimage at a young age but he contracted smallpox on the way and his companions had to abandon being thought of him dead and goes one's destination.
Then Malam Shah and his wife Matijan rescued the dying Lalon from the banks of the Ganges. Lalon lost one eye to the smallpox disease. Lalon came to the touch with philosopher and singer Siraj Shah at Cheuriya, Kushtia, and was impressed very much by him.
Baul Philosophy:
Baul is special folklore and creed in Bangladesh. Although the idea of the Baul Song was instinctive in the seventeen century but the Baul Song gained popularity in the nineteen century as the song of Lalon.
Baul singers embrace the unvarnished lifestyle and this song is involved the philosophy of people. In 2005, UNESCO declared Baul Song as of the best resources among the oral and visual traditions in the world. A film is made based on Lalon's philosophy and biography named Moner Manush in 2010.