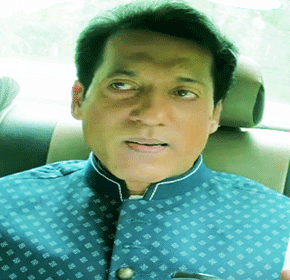 Full name: Dhruba Guha
Birthdate: January 14
Birth Place: Ramkrishnapur, Homna, Comilla
Education: Dhaka University
Occupation: Singer, Service Holder
Years active: 2015-present
Height: 5 feet 6 inches
Spouse (s): N/A
Religion: Hinduism 
Zodiac sign: Capricorn
Dhruba Guha is a Bangladeshi sensation emerging singer who has touched the hearts of millions of music listeners. Only two musical tracks by the singer have created a new dimension in the music industry of the country. His recently released two songs have got huge visibility on YouTube. He is a man of a different track, music is not his main profession, yet he has created a great impact in the mind of music lovers.
Dhruba Guha Early Life:
Dhruba Guha was born on January 14, at Ramkrishnapur, Homna, Comilla. Guha's father is Santosh Chandra Guha who is a retired English teacher at Ramakrishnapur KKRK High School. He was so much passionate about the music arena from early childhood and learned Shastrio Sangeet Ustad Abu Sayeed Biswas.
The singer believes that it is the root of all music. The singer is highly educated and graduated from Dhaka University. He has completed an MBA from the University of Information Technology and Sciences.
Dhruba Guha Career:
Dhruba Guha kicked off his career journey as a private service holder. Professionally he worked in Pioneer Insurance Company as a Chief Financial Officer; this is a leading general insurance company in the country. Dhruba is so much music lover, so tries to do something in the field. His nearest friends have suggested him to work on music.
Dhruba entered the music world with the album 'Shudhu Tomar Jonno' in October 2015.  The composition of the album is done by Mr. Torik Al Islam under C.D. Choice. The title track of the album has received huge views on YouTube.
"Je Pakhi Ghor Bujhe Na" is the most popular song of the album; the track has created a fierce stir in the music industry of Bangladesh. The track has got huge popularity among music listeners. After releasing the first album, the singer got a huge acclamation from critics and listeners.
Dhruba has released his second album 'Tomi Valobasho Bole'. In the album, the song 'Adore Rakhio Bondhu' has got huge popularity. The track makes a great impact on music lovers and the singer got countrywide popularity. Now, the singer Dhruba Guha is a familiar face in the country.