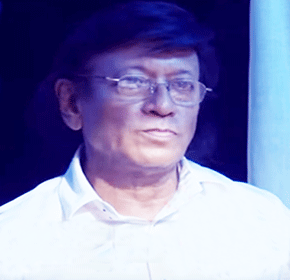 Full name: Lucky Akhand
Birth Date: June 18, 1955
Birth Place: Dhaka, Bangladesh
Death: April 21, 2017
Education: N/A
Occupation: Singer, Composer
Years active:1984-2017
Spouse (s): N/A
Religion: N/A
Zodiac sign: Gemini
Lucky Akhand was a Bangladeshi popular band singer who enriched the arena of Bangladeshi modern songs. He added a new dimension to the music industry of the country. Lucky was a member of the music 'Happy Touch'. The talented singer gives to listeners many popular songs until his death including Ei Neel Monihar, Amaye Deko Na, and Abar Elo Jey Shondhya. He served Bangladesh Betar as director (music).
Lucky Akhand Early Life:
Lucky Akhand was born on June 18, 1955, in Dhaka, Bangladesh to father AK Abdul Huq and mother Noorjahan Begum. His father was a music person and eventually got a lesson in music only at 5 years old. He was so much passionate about the music arena in his early life and used to perform on several television programs as a child singer. Lucky was an artist in the Swadhin Bangla Betar Kendra during the liberation war of Bangladesh.
Lucky Akhand Career:
Lucky Akhand released his first music album by his name 'Lucky Akhand' in 1984. The music album got countrywide huge popularity for its hit single tracks "Agey Jodi Jantam", "Amay Dekona" and "Ei Neel Monihar". His younger brother Happy Akhand died in 1987 and it stopped the music career the singer. Lucky came back into the music arena with the music album 'Porichoy Kobe Hobe' in 1998.
In the same year, he released another music album 'Bitrishna Jibone Amar'.  Six popular singers of the country give their voices in the album including James, Ayub Bachchu, Kumar Biswajit, and Samina Chowdhury. Following the year, 1999, he released three music albums 'Ananda Chokh' 'Dekha Hobe Bondhu' and 'Amay Dekona'. In 2000, Lucky released another mix album 'Tomar Oronne' with Bappa Mazumder and Fahmida Nabi.
Personal Life:
Lucky Akhand died at 6 pm, on April 21, 2017, at Midford Hospital in Old Dhaka. He was diagnosed with lung cancer in 2015 and treated at Bangabandhu Sheikh Mujib Medical University. Lucky Akhand has a daughter named Mum Minti. In his death, the Prime Minister of Bangladesh, Sheikh Hasina expressed deep condolence.