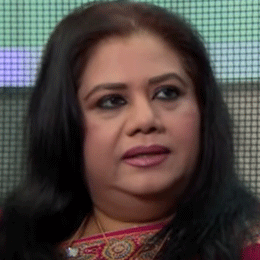 Full name: Runa Laila
Birth date: November 17, 1952
Birthplace: Chittagong, Bangladesh
Education: Bulbul Academy of Fine Arts
Occupation: Singer
Years active: 1969-present
Height: 5 feet 5 inches
Spouse (s): Alamgir
Religion: Islam
Zodiac sign: Scorpio
Runa Laila is the best worldwide recognized singer from Bangladesh. She is best known for pop, playback and modern song in the Bangladesh. Runa Laila began working as playback singer prior to liberation war of Bangladesh. Runa is very much popular in South Asia; Runa's song Dam Dam Mast Qalandar is very popular in Pakistan. Runa relentlessly singing a song for five decades in various language including Hindi, Urdu, and English, she also made Guinness World Record.
Runa Laila Early Life:
Runa Laila's father Amdad Ali was a boy of Rajshahi who completed Master's in Islamic History from Kolkata University. Her father started a job in Kolkata where she met with a singer Amita Sen, being attracted with this lady fall in love. They married in 1947 after courtship. Runa Laila was born in this family on November 17, 1952. At her early childhood, Runa Laila was admitted at Bulbul Academy of Fine Arts by the mother for learned dancing but she was attracted by music very much.
She had loitered around her elder sister Dina Laila during her music practice. She could capture easily any song's tune, instantly began to sing the song just listen. Runa's parents being overwhelmed seen her talent; sent her to learn music along with elder sister Dina Laila. Runa passed SSC in 1968 with first class, in 1970, passed HSC with second class.
Musical Career:
Runa Laila began career journey with a stage show in Dhaka at an age of 6 where she got the chance because of her elder sister Dian's inability to sing. Certainly, she did not miss the chance, she satisfied with all audience by singing. When she was 9 years old, Radio Pakistan organized an inter-school music competition but organizers did not want to give her chance, cause of being an English medium student.
However, she got a chance to sing faced various troubles, proper used the chance, picked up the first prize by singing a Gazle. She made her debut as a playback singer in Pakistan period by singing for the movie Zugnu. Runa also acted in a movie named Shilpi with her husband Alamgir. She won numerous prizes including National Film Awards for four times.
Guinness World Records:
Runa Laila gave voice in many songs of Pakistani composer Nisa Bajmi. The composer and music director had made various songs by Runa. Next, an organization of Mumbai planned had Runa Laila sing-song composer of Nisar Bajmi. Everyday Runa records ten songs of a composer, in three days she recorded total 30 songs. Then as a world record, it placed in the Guinness World Records Book.
Personal Life:
Runa Laila got married three times just one short from another famous singer Sabina Yasmin. At first, she married to Khawaza Javed Kaiser, secondly married a Swiss citizen named Ron Daniel. Finally, Runa married to Bangladeshi famous actor Alamgir where has a daughter Akhi Alamgir, a Bangladeshi heartthrob singer.
Some Popular Songs:
sadher lau banailo more boiragi
Bundhu Tin Din Tor Bari Gelam
Je Jon Premer Bhab Jane Na
Shilpi Ami Tomaderie Gaan Shonabo
Shukh Tomi Ki Boro Janthe Echhe Kore
Ganga Amar Ma Padma Amar Ma
Dam Dam Mast Qalandar (O Lal Meri)-Hindi
Mera Babu Chail Chabila- Hindi