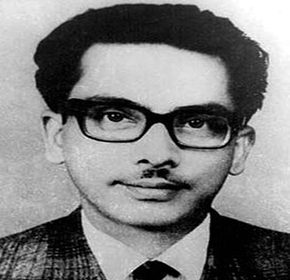 Full Name: Shahidullah Kaiser
Birth Date: February 27, 1927
Birth Place: Mazupur, Feni, Bangladesh
Education: University of Dhaka
Occupation: Novelist, Writer, Journalist
Spouse (s): Panna Kaiser
Religion: Islam
Zodiac Sign: Pisces
Shahidullah Kaiser was a Bangladeshi famous writer and novelist who abducted by the Pakistani Army during the liberation war of Bangladesh as their part of killing the intellectual person of the country. He is the elder brother of Zahir Raihan and father of well-known actress Shomi Kaiser. He is highly respected across the country for his outstanding activities supporting the Bangladesh Liberation War.
Shahidullah Kaiser Early Life:
Born Abu Nayeem Mohammad Shahidullah born on February 27, 1927, in Mazupur, Feni, Bangladesh. Kaiser studied at Presidency College, Kolkata and received bachelor's degree in economics. Then he enrolled at the Calcutta University in masters but dropped out. Kaiser started to study in Law at Surendranath Law College. He also admitted into the University of Dhaka but didn't complete the degree. He was very much passionate about cultural work from early childhood.
Shahidullah Kaiser Career:
Shahidullah Kaiser was very active in politics from student days and joined the provincial Communist Party of East Pakistan after formation of Pakistan in 1947. He began working as a journalist in the Ittefaq run by Abdul Hamid Khan Bhashani in 1949, Dhaka. Kaiser actively participated in the Bengali Language Movement; even he was arrested for participation in the language movement on June 3, 1952, and jailed three and a half years.
On a political crackdown in 1955, he again arrested and jailed for a few years. In 1958 joined Kaiser joined as an editor in 'The Sangbad', rest of the life he worked here. When the martial law was proclaimed in 1958 by Ayub Khan, he was again arrested and remained in the jail until 1962.
Disappearance:
Shahidullah Kaiser delivered medicine and food freedom fighter from Begum Sufia Kamal's house during the liberation war of Bangladesh. Earlier December 1971, he was able to imagine what tragic situations are waiting for them as he cautioned Sufia Kamal to leave Dhaka but he himself didn't leave eventually caught by the Pakistani Army. He was killed with other 17 intellectuals just before the independence of Bangladesh in 1971.
Personal Life:
Shahidullah Kaiser married Panna Kaiser in 1969. She is a politician of Bangladesh Awami League and elected parliament member in 1996. The couple has a son Amitav Kaiser who is a banker and a daughter Shomi Kaiser, is well-known TV actress.