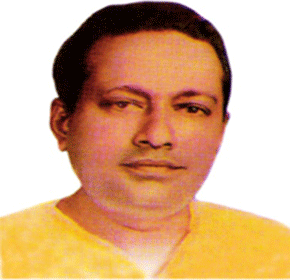 Full Name: Abdul Alim
Birth Date: July 27, 1931
Birth Place: Talibpur, Murshidabad, British India
Education: Primary
Occupation: Playback Singer
Years Active: 1944-1975
Spouse (s): Jamila Alim
Religion: Islam
Zodiac Sign: Leo
Abdul Alim was a very popular singer in Bangladesh who brought folk songs to a new highest peak with his outstanding singing capacity. He is considered a legendary singer of the country and highly acclaimed by the people of Bangladesh. Alim was awarded National Film Award in 1974.  He was also awarded posthumously Ekushey Padak and Independence Day Award in 1977 and 1997 respectively.
Early Life:
Abdul Alim was born on July 27, 1931, in Talibpur, Murshidabad, West Bengal, British India. Mohammad Yusuf Ali his father. He wanted to be a singer being inspired by listening to his father's records. But he had no chance to take any formal education in music.
However, he learned music from Syed Golam Ali and got acclamation singing folk songs. The legendary singer made his first record at only 13 years old. Later he went to Kolkata where he met with Kazi Nazrul Islam and briefly made songs with the poet and  Abbasuddin Ahmed.
Abdul Alim Career:
Following the partition of India, Abdul Alim came to Dhaka and started singing as a staff artist on the Radio. Then he began singing on television. He made a breakout performance at the Alia Madrasha in Calcutta. Alim sang playbacks in more than 100 films and recorded over 300 Gramophone records as well as won five gold medals at the All Pakistan music conference. He played back for the first movie of the erstwhile East Pakistan 'Mukh O Mukhosh'.
Personal Life:
Abdul Alim's wife's name couldn't be known, he has three sons named Jahir Alim, Haider Alim, and Asgar Alim, and four daughters named Zohra Alim, Noorjahan Alim, Aktar Jahan Alim, and Asia Alim. He died on September 5, 1974, at PG Hospital, Dhaka. In 2015, a research book on his life was published.
Some Popular Songs:
-Ei Je Duniya Kishero Lagia
-Shorbonasha Padma Nodi
-Holudia Pakhi Shonar Boron
-Amare Shajay Dio Nowshar Shajey
-Porer Jaiga Porer Jomi
-Mon-e Boro Asha Chhilo Jabo Modina-e
-Shab Shakhire Par Korite Nebo Ana Ana