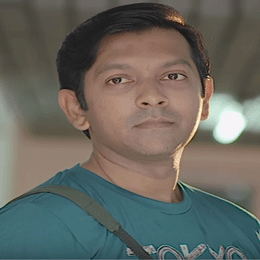 Full Name: Tahsan Rahman Khan
Birth Date: October 18, 1979
Birth Place: Bikrampur, Bangladesh
Height: 5 feet 8 1⁄2 Inches
Education: University of Minnesota
Occupation: Model, Singer, and Lecturer
Height: 5 feet 8 inches
Spouse (s): Rafiath Rashid Mithila
Religion: Islam
Zodiac sign: Leo
Tahsan Rahman Khan is a multi-talented professional, he is an actor, model, and singer. Besides his media career, he is also a successful university teacher in Bangladesh. Tahsan is more highly educated in the media world than other artists in Bangladesh who took education from IBA that is the most desirable educational institute to the Bangladeshi student. Already, he proved his capacity in the media world of Bangladesh.
Tahsan Rahman Khan Early Life and Education:
Tahsan Rahman Khan was born on October 18, 1979, in Bikrampur, Bangladesh. Tahsan currently is living in Dhaka although his paternal house is situated at Bikrampur, Munshiganj. He was passionate about music from early childhood, took education on music from Shishu Academy and Chhayanat. He studied at Saint Joseph Secondary High School and passed SSC from this school. Then he enrolled in Bangladeshi best college, Notre Dame College and passed the HSC from this country famous college in 1998. Tahsan received BBA Marketing and MBA Finance from the country's best educational institute, IBA Institute of Business Administration. Tahsan is one of the most brilliant celebrities in Bangladesh who also took a foreign degree, a second MBA from Carlson School Management, the University of Minnesota in 2010.
Tahsan Rahman Khan Career:
Tahsan Rahman Khan joined a Bangladeshi band named Black after completing his education. He started a professional career, joining a company named Unilever Bangladesh, where he worked for a year. Then Tahsan started teaching profession by joining Eastern University in 2006. In 2008, he joined the University of Liberal Arts of Bangladesh as a researcher. Now, Tahsan is a faculty member of BRAC University. He already proved his talent in all fields such as acting, singing, and teaching. He showed his terrific acting performance in the TV commercials of Bangladesh. Tahsan is a multi-talented professional in the country. After marriage, he released an album with his wife Mithila.
Tahsan Rahman Khan Personal Life:
Tahsan Rahman Khan got married to a model, actress and singer Rafiath Rashid Mithila on August 3, 2006. On April 30, 2013, he becomes the father of a daughter, his daughter named Aira.
It is very much sad news to the audience, the most successful celebrity husband-wife Tahsan and Mithila parted way, Tahsan got divorced in May 2017 after 11 years of happy married life even they stayed together more than 14 years. The leading news site Prothom-Alo confirmed their divorce.
More Bangladeshi People
Greatest 20 Bengalis in the history
Top 10 internationally famous Bangladeshis
Bangladeshi Poets Writers Linguists