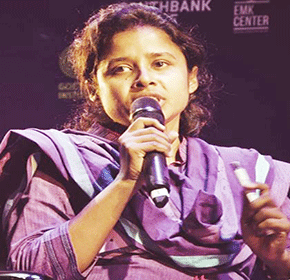 Full Name: Nishat Majumdar
Birth Date: January 05, 1981
Birth Place: Lakshmipur, Bangladesh
Education: Dhaka City College
Occupation: Accounts Officer, Mountaineer
Height: 5 feet 4 inches
Spouse (s): Md. Rafikul Islam
Religion: Islam
Zodiac Sign: Capricorn
Nishat Majumdar is a Bangladeshi mountaineer who is the first female and second person in the country after Musa Ibrahim to win the Mount Everest. She won the Everest to the northern side on May 19, 2012, with a team. Ony six days later, Wasfia Nazreen reached the summit of the Mount Everest from Nepal side independently. Nishat draws the huge media attention when reached the summit and turned herself into a celebrity in the country.
Nishat Majumdar Early Life:
Nishat Majumdar was born on January 05, 1981, in Lakshmipur, Bangladesh to Ashura Mazumder (Mother) and Abdul Mannan Mazumder (Father). Her father is businessman where the mother is a housewife. She passed SSC from Bottomley Home Girls' High School in 1997. Nishat completed HSC from Shaheed Bir Uttam Lt Anwar Girls' College in 1999. Then she admitted to Dhaka City College from where completed Honours and Masters in Accounting.
Nishat Majumdar Career:
Nishat Majumdar kicked off the career journey as an account officer at the Dhaka Water Supply & Sewerage Authority. After winning the Mount Everest, WASA awarded her 5 lac taka and a crest. She has been cherished a dream for a long time for climbing the Everest that is not easy and simple. Nishat had almost ten years preparation for start journey toward the Mount Everest.
Mount Everest Winning:
Nishat Majumdar joined Bangladesh Mountaineering and Trekking Club (BMTC) in the later 2003 and started receiving official training on how to climb during 2007. In 2008, she climbed the 'Singu Chuli' of the Himalayas. Then she took part in the Manaslu peak expedition in 2011. Following the year, Nishat made a history as first Bangladeshi women by winning the Mount Everest on May 19, 2012.
Personal Life:
Nishat Majumdar married Md. Rafikul Islam who is a software engineer and working at a software firm in Dhaka.