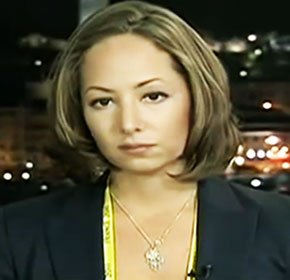 Full name: Anissa Naouai
Birthdate:1982
Birthplace: New York City, United States
Education: Moscow Art Theatre
Occupation: Presenter, Journalist
Years active: 2002-present
Spouse (s): Kevin Owen
Religion: Not Known
Net Worth: $5 million
Zodiac sign: Aries
Anissa Naouai is an American popular journalist and television presenter. She is best known around the United States for her television program 'In the Now' on RT America, a political research program. Anissa draws media attention widely when she made a video on the issue of Rohingya.
In the program, she desperately blames the de facto leader of Myanmar Aung San Suu Kyi, for supporting the Rohingya refugees who have fled away to Bangladesh from Rakhine State.
Early Life:
Anissa Naouai was born in 1982, in New York City, United States. She admitted into the Hunter College City University of New York where she studied English, French, and World History. Then she enrolled at Moscow Art Theatre and completed graduation in 2005. She started performing as 'Bianca' in 'The Taming of the Shrew.
Naouai was so much passionate about the theatre industry and build up a career in the media field. She belongs of Tunisian descent from her father's side and German descent from her mother's side.
Career:
Anissa Naouai kicked off her career journey as a theatre artist during her study life and was a member of the international theater company Studio 6. Then she performed in an audiobook 'The School of Scandal'. Anissa made a documentary film 'Isklyuchitelism' aired on NTV.
She made another documentary film 'Zashto' that won an award provided by Cubavision International in the Best Documentary Film category.  On REN TV, she worked as a correspondent for the program 'What's going on?'. Since 2009, Anissa anchored the program 'In the Now' for RT America which is conveying most of the fame in her life.
Personal Life:
Anissa Naouai married a television anchor Kevin Owen and she gave birth to a child in 2012 named Sasha.