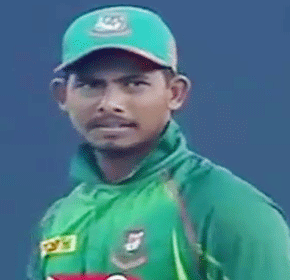 Full name: Mosaddek Hossain Saikat
Birth date: December 10, 1995
Birth place: Mymensingh, Bangladesh
Education: N/A
Height: 5 feet 7 inches
Occupation: Cricketer
Playing role: Middle-order batsman
Batting style: Right-hand bat
Bowling style: Right-arm off break
Spouse (s): N/A
Religion: Islam
Zodiac sign: Sagittarius
Mosaddek Hossain is a Bangladeshi cricketer who is also known by nickname Saikat. He made his ODI debut against Afghanistan in 2016. Bangladesh cricket board gives him a chance before England series to judge his ability in international arena replacing experienced opener Imrul Kayes, although having a brightest record in the first class cricket.
Mosaddek Early Life:
Mosaddek Hossain was born on December 10, 1995, in Mymensingh, Bangladesh. Saikat comes from a cricket-loving family, among three brothers all are playing cricket. Younger brother Mosabbek Hossain showed his terrific performance in the Under-19 World Cup in Bangladesh and the youngest brother Moon is playing in under-13. He is one of the rising cricketers of Bangladesh. Only at the 20 years old, Mosaddek has made debut in the ODI cricket, but he is so mature cricketer than age. Dashing opener Tamim Iqbal said "His mental age 45, I am astonished! How he handles the tough situation like an experienced cricketer.
Mosaddek Career:
Mosaddek Hossain made his international debut in the cricket arena against Zimbabwe in January 2016, but he only scored 15 runs in the match. On September 28, 2016, Mossadek is called for his debut match against Afghanistan in second ODI of three-match series replacing experienced player Imrul Kayes.
Saikot gets the chance in the ODI match in consideration of his batting ability. At first, the cricketer draws the attention of all by the performance in Dhaka Premier League in 2013. In this season, he made a ton and three fifties eventually entered into the Under 19 training camp.
Mosaddek made the first-class debut in the 2013-14 season but wasn't so good, but in the next season he made a couple of terrific innings, scored 250 and 282 runs. He scored seven centuries in the first-class cricket. Mosaddek scored innings highest score in the only preparing match against Afghanistan.
In the debutant match, Mosaddek makes a terrific performance in the low scoring match against Afganistan when most of the first line batsman fall down, he played a 45 runs fantastic innings and got two wickets.