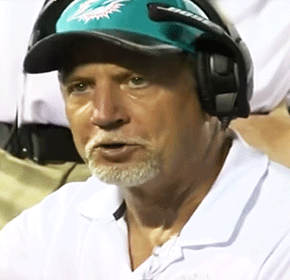 Full Name: Christopher Flyn Foerster
Birth Date: October 12, 1961
Birth Place: United States
University: University of Minnesota
Occupation: Coach
Years Active:1982-2017
Spouse (s): Michelle Foerster
Religion: Not Known
Zodiac Sign: Libra
Chris Foerster is a popular American former college football player who turned himself into a professional football coach later. The successful player associated with the team Miami Dolphins of the National Football League as an offensive line coach. He also worked as an offensive coordinator of the same team in 2004. Foerster comes to the timeline around the sporting world when he was hired by the San Francisco 49ers on February 15, 2008, as their co-offensive line coach.
Chris Foerster Early Life:
Christopher Flyn Foerster was born on October 12, 1961, in the United States to Richard Deveraux Foerster and Lucinda. His father was a Navy Veteran who participated in World War II. He has a sister Carla Hass. Chris Foerster was so much passionate about the sporting world from early childhood eventually build up his career in the targeted field. Now he is a well-known face in the NFL world.
Chris Foerster Career:
Chris Foerster kicked off the journey as a footballer playing for the Colorado State. In 1982, he started coaching career in the team as a graduate assistant. He also served as offensive line coach for Colorado State between (1983-1987). In 1992, he joined as the offensive line coach for the University of Minnesota. Then Chirs worked in the Minnesota Vikings.
He made a wonderful coaching performance in the Miami Dolphins as offensive coordinator in 2004. Following the triumph, he landed his career experience in the team San Francisco 49ers and got the positive acclamation from the critics and sporting staffs. On October 9, 2017, he resigned from the Miami Dolphins after surfaced a video of him snorting coke.
Personal Life:
Chris Foerster tied a knot with beautiful lady Michelle Foerster who is a nurse. Michelle Foerster graduated from the University of Phoenix in Nursing. The couple has a son named Micah born on December 6, 1991, and a daughter named Kathleen Colby born on August 9, 1988