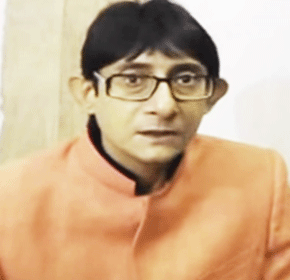 Full name: Kanchan Mallick
Birthdate: N/K
Birthplace: Kolkata, India
Education: N/K
Occupation: Actor
Years active: 2002-present
Height: 5 feet 6 inches
Spouse (s): Pinky
Religion: Hinduism
Zodiac sign: Gemini
Kanchan Mallick is an Indian actor who predominately appears in the Bengali films. The actor Kanchan is best known for his comic role in the cinema industry. He is also a familiar face on the small screen. Kanchan strongly draws the attention of the audience by his terrific acting performance. Now, he is a familiar face in the showbiz industry of Kolkata. Most of the time, the actor appears in the film as an assistant of the hero.
Kanchan Mallick Early Life:
Kanchan Mallick was born in Kolkata, India. He was so much interested about media arena from early childhood eventually turned career life into the showbiz industry. For his outstanding performance, he is widely popular to the people.
Kanchan Mallick Career:
Kanchan Mallick kicked off the journey in the media arena as a theater artist and was associated with the theater group Swapnasandhani. He also performed in some television mega serial. Kanchan Mallick made his acting debut in the film industry with the blockbuster movie 'Sathi' in 2002 with Jeet. Following the year, he appeared another blockbuster movie 'Sangee' with Jeet.
In 2001, Kanchan starred in the movie 'Ranjana Ami Ar Ashbona' with Anjan Dutt and Parno Mittra. Then he acted in the movie 'Golemale Pirit Koro Na' in 2013.  Following the year, Kanchan made an outstanding acting performance in the movie 'Bachchan' with Jeet and Payel Sarkar. The movie created a fierce stir enough in the box office of Kolkata.
In 2015, he starred in the movie 'Rajkahini' with Rituparna Sengupta, Saswata Chatterjee, and Abir Chatterjee. Following the year, he appeared in the movie 'Kelor Kirti' with Dev, Sayantika Banerjee, and Mimi Chakraborty. Then Kanchan acted in the movie 'Love Express' with Dev and Nusrat Jahan. In the same year, he starred in the movie 'Haripad Bandwala' and 'Abhimaan'. In 2017, he appeared in the movie 'Dhananjay' with Anirban Bhattacharya and Mimi Chakraborty.
Personal Life:
Kanchan Mallick tied the knot with beautiful lady Pinky; he leads a bliss conjugal life after married the woman.