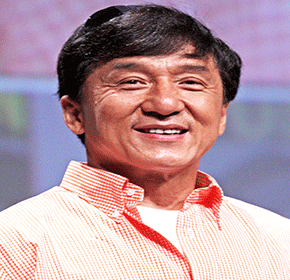 Full Name: Chan Kong-Sang
Nickname: Chan
Birth Date: April 7, 1954
Birth Place: Hong Kong
Height: 5 feet 8 inches
Occupation: Actor, Singer
Years active: 1962–present
Spouse (s): Joan Lin
Religion: Buddhist
Zodiac sign: Aries
Jackie Chan is an actor and stuntman who born in Hong Kong. He is best known around the world for his martial arts technique.  Chan is consistently entertaining to the audience since his early career.  He already acted in more than 150 films and won various awards.
Jackie Chan Early Life:
Jackie Chan was born on April 7, 1954, in Hong Kong to Charles and Lee-Lee Chan. His parents moved to Australia looking for the new job when he was only seven years old. Chan studied at a boarding school Chinese Opera Research Institute. He learned martial arts, drama, acrobatics, and singing during next 10 years. Chan was media arena affectionate child started a career as a child actor in the media industry.
Jackie Chan Career:
Jackie Chan kicked off career journey as Acrobat and movie stuntman after completing graduation in 1971. When martial arts legend Bruce Lee died then the industry looking for an actor like him, Chan pursued to compensate the loss of the actor.  In 1978, the actor made a career breakthrough performance with the movie 'Snake in the Eagle's Shadow'. Then he acted in the movie 'Drunken Master'. Chan made his Hollywood debut with the movie 'The Big Brawl' in 1980.
He already acted in lots of Chinese successful movies including 'The Young Master', 'Project A' and 'Armour of God'. Her acted two successful movies are Shanghai Noon and Shanghai Knights. With the movie 'The Young Master', Chan made a directorial debut. He showed off a terrific performance in these movies 'Forbidden Kingdom' and 'Police Story'.
Personal Life:
Jackie Chan tied a knot with Taiwanese actress Joan Lin in 1982. Their son Jaycee Chan was born the same year. It is reported, he was romantically linked with Elaine Ng Yi-Lei and she gives birth a daughter as a result of the extramarital affairs with Chan.