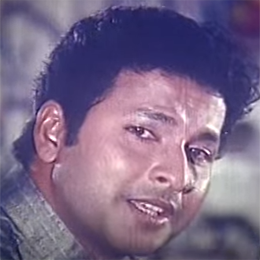 Full name: Rezaul Karim
Birthdate: N/A
Birth Place: Dhaka, Bangladesh
Education: N/A
Occupation: Actor, Director
Years active: 1986-present
Height: 5 feet 4 inches
Spouse (s): N/A
Religion: Islam
Zodiac sign: Taurus
Bappa Raj is a Bangladeshi film actor, he is best known as a romantic hero in the country. Bappa is the elder son of Bangladeshi best hero ever Nayak Raj Razzak but he strongly proved his acting ability in the Dhallywood film industry with his performance. He acted in lots of popular films, actually, Bappa Raj plays the melancholy role in the movie.
Bappa Raj Early Life:
Bappa Raj was born in Dhaka, Bangladesh to Razzak and Rajlokhhi. Bappa's father Razzak is the country leading film actor who has made lots of historical movies in the history of Bangladesh. He has a younger brother Somrat who is also an actor in the media industry of Bangladesh. Bappa Raj has two sisters Nasrin Pasha Shampa and Afrin Alam Moyna.
Bappa Raj Career:
Bappa Raj comes to the film industry from a media-engaged family. He made her debut in the Dhallywood film industry with the movie 'Chapadangar Bou' in 1986. From the debutant, he is still active in Dhallywood with acting, producing, and directing. Bappa Raj acted in more than 100 films throughout his career.  Ten years later from his debut movie, he came back into the industry with the movie 'Ajker Sontrasi' in 1996. Only the year was his career-boosting year, during the year he acted in most of his best movies.
Bappa Raj acted in the blockbuster movie Baba Keno Chakor with his father Razzak. Actually, she is the hero's son hero who holds his father's name by her magnificent acting capacity. Bappa's melancholy acting technique can stun anyone.
Bappa Raj, in his career, acted in some remarkable films like Premer Somadhi and Baba Keno Chakor. He acted in the movie Premer Somadhi with co-actor Amith Hasan and co-actress Shabnaz. The movie created a fierce in the box office of the Dhallywood film industry. In the movies Pagleer Prem and Bhalobasa Kare Koy, he showed his terrific performance with co-actress Shabnur.
In 2000, Bappa Raj again came back to the Dhallywood film industry with the movie 'Sot Bhai'. Following the year, he acted in another popular movie 'Bhalobasa Kare Koy'. In recent times, Bappa has also been active in the movie industry where he acted in the movies O Sathi Re, Most Welcome, and Nishpap Munna. Bappa Raj made a debut in the movie direction with the movie Kartooz in 2015.