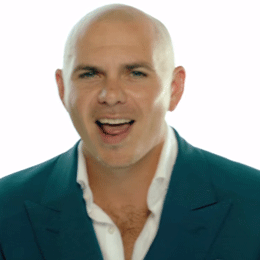 Full name: Armando Christian Perez
Nickname: Pitbull
Birth date: January 15, 1981
Birthplace: Miami, Florida
Height: 5 feet 6 inches
Occupation: Rapper
Years active: 2001-present
Spouse (s): Barbara Alba
Religion: N/A
Zodiac sign: Capricorn
Pitbull is an American rapper who is considered as the best rapper at the present time. He has added a new dimension to the music world by his exceptional rapping technique. In 2002, Pitbull started his rapping career with the album 'Kings of Crunk'.  But he got worldwide recognition for his song 'I Know You Want Me' in 2009.
Pitbull Early Life:
Armando Christian Perez (Pitbull) was born on January 15, 1981, in Miami, Florida. The rapper was much aspired to build up a career in the music industry from early childhood. He was talented much could recite Jose Marti's major work who is a Cuban poet and national hero at three years old. Her parents separated when he was very young. Perez raised by his mother later to a foster family. Perez admitted at South Miami Senior High School. Then he enrolled at Miami Coral Park High School and completed graduation. After graduation, he focused on career rapping.
Pitbull Career:
Pitbull started his career journey in the music industry in 2001, by introducing with the Robert Fernandez. Fernandez interested much about Pitbull and started working to develop Pitbull. They concentrated on creating radio-friendly sound. In 2002, he performed on a solo track of Lil Jon's album Kings of Crunk. Then Pitbull made his debut in the single album by releasing the album M.I.A.M.I. under TVT Records. Then he released first and second album respectively in 2006 and 2007. His third album 'Rebelution' with a hit track 'I Know You Want Me (Calle Ocho)' released in 2009. This track his first internationally hit song peaked at number two on the Billboard Hot 100.
In 2011, the rapper released the sixth album Planet Pit, 'Give Me Everything' the single track of the album was his first number-one single on the Billboard Hot 100. He was chosen for 2014 FIFA WORLD CUP's official song with Jennifer Lopez by the FIFA and Sony Music.